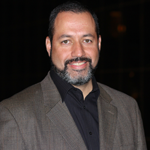 Dear NAHJ Nation,
NAHJ understands that although the economy is moving in the right direction, the personal economy of many members is not. As you know, there are some members who have faced financial challenges because they lost their jobs as a result of layoffs or downsizing.
The $50 membership special is a direct response to the continued hardships of many of our colleagues.
I'm blessed to have a job and a very supportive employer. I am fortunate to be in a position to sponsor two journalists who I know will benefit from being part of the NAHJ family. Our association will also benefit from their experiences, talents and passions.
My hope is to inspire some of you who are doing well financially to do the same. Already, some NAHJ board members are joining me in sponsoring memberships. Perhaps, like us, you're in a position to champion a journalist, associate member, student or academic professional?
Let's pay it forward or just give a helping hand. It's up to you.
Join me in sponsoring someone for a $50 membership special. Is there someone you know who needs a little extra assistance? Help him or her join now before this special deal ends at the end of January. Membership fees go back to $75 on February 1st.
Next, let's talk about the Excellence in Journalism 2013 (EIJ13) national conference, where we will join RTDNA and SPJ from August 24 to 26 in Anaheim, California. Our Executive Director Anna Lopez Buck has hit the ground running, meeting with our partners and sponsors about this year's dynamic event.
As always, you are key to NAHJ's success. February 1 is the deadline to submit panel proposals specific to our association. Please visit the 2013 NAHJ Conference section of NAHJ's website. There you will find more details on how to submit your ideas, as well as other information on EIJ13.
Mekahlo Medina and Veronica Villafane are co-chairs of our national conference. Please feel free to reach out to them with any questions you may have.
Have a wonderful week.
Hugo Balta
President, NAHJ